A couple's eye for potential and passion for renovation has transformed an ordinary red brick house into an exceptional contemporary hillside home.
Husband and wife, and business partners, Brad and Amanda Richards of Brad Richards Building specialise in architectural renovations and new builds. In early 2016, they were scanning the property market for a renovation project for their business, when they came across an earthquake-damaged 1960s "as is, where is" property for sale, high on the upper eastern slopes of Mt Pleasant in Christchurch.
"We had only just finished building what we thought would be our long-term family home in St Albans," explains Amanda.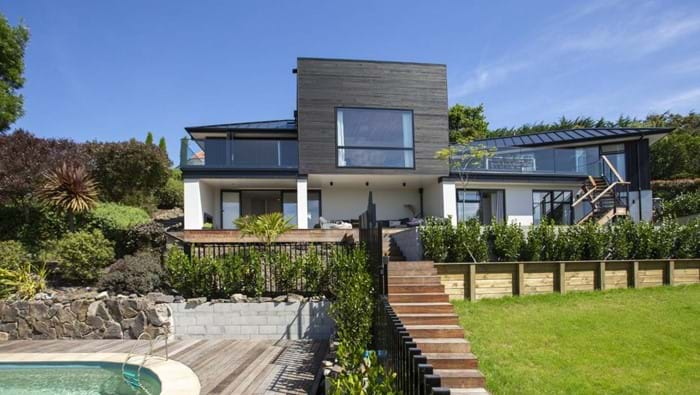 DAVID WALKER/HOMED
With its new cladding and contemporary design, it's hard to believe this was once a red brick house on the hill.
"We went along to the open home in Mt Pleasant and immediately fell in love with the potential of this place," she says. "The views were incredible; the home is nicely positioned facing the north and the site is surrounded by established gardens, trees and hedges."
Brad, who is a builder of 20 years, says they just had to look at each other to know they agreed they had found more than just a business project. This house was going to be their long-term family home.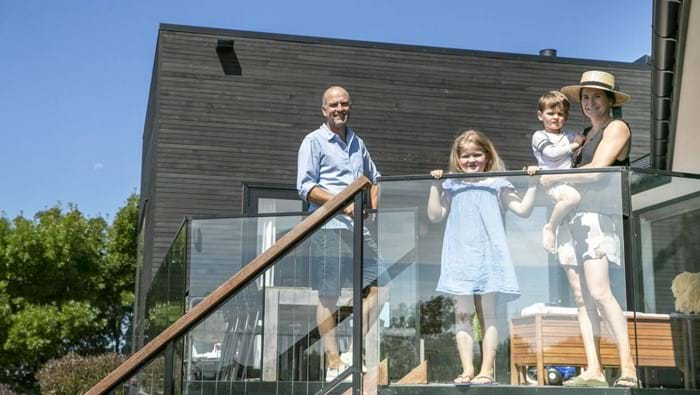 DAVID WALKER/HOMED
Amanda and Brad Richards relax on the upper terrace with Willow and Max.
"With our skills and knowledge of how to read a repair strategy, it was easy to work out what was needed to be done," says Brad.
While new builds are an essential part of their business, the Richardses are especially passionate about renovating. They treat each job as if it was their own home.
"We enjoy the challenge of older houses and working with what is already there. For the client, renovating can be more economic than a new build and it is more environmentally sustainable," says Brad. "An established garden automatically looks homelier, and the house will already have its own story. It's really satisfying to draw out the positive features of an older home and eliminate the negatives."
A widely respected home renovating rule is to live in it for a year before planning any major changes.
While the repairs to restore the home to pre-earthquake condition were mainly cosmetic, the couple went well beyond what was required. And with good reason. Access to outdoors was limited and the living area layout was awkward.
For example, the master bedroom was adjacent to the kitchen and dining rooms, and the disconnected lounge felt like it was out on a limb.
While the basic footprint and framework was retained, the home was reroofed, and the damaged fireplace and twisted aluminium windows were replaced. The red brick exterior was stripped and the framework re-clad in shiplap tinted-oil cedar boards.
Upstairs, a contemporary addition projects beyond the traditional existing form. This addition serves to consolidate the living areas and creates an airy, gallery-like, comfortable space.
The high stud is framed by a floating timber ceiling and punctuated by 1960s tempered glass pendants, salvaged from an old school hall in Prague. The pendants are a favourite find, bought from their friend's antique store, Vitrine, in Auckland.
The hero piece in this room, however, is a huge picture window – showcasing phenomenal views of Christchurch city, the changing patterns of the Ihutai Avon Heathcote Estuary, Pegasus Bay and the Kaikōura ranges beyond.
"We both love the look and feel of wood, but it's easy to go overboard," suggests Brad. "To avoid looking 'too woody', we selected American white oak for the joinery throughout the house. Its pale colour complements the yellow tones of the oak floor."
The kitchen has been tastefully remodelled and timber joinery and detailing carries through the house, complementing function with form.
Downstairs, the concrete block walls are strapped and lined, and an extra living room has been added. The Richardses have brought life to dormant rooms by creating a second living area, which spills out onto a covered deck with outdoor fireplace. The deck steps down onto a lush lawn area protected from the prevailing easterly wind.
"We've been surprised by how much we're using the downstairs living area," Amanda says. "There's heaps of space for the kids to run around and play, and we can entertain while we keep one eye on them. And it's future proof – this area will be a great space for teenagers wanting to get away from the parents and play their own music."
Right now, the family is enjoying living in their newly renovated home and exploring what's around them.
"We can just step out that door and walk up to the Summit Road. In the early morning, the view from up there is like nothing else – it's magic," says Brad.