When Brad and Amanda Richards, of Brad Richards Building, chanced upon an old red-brick home on the hills of Mt Pleasant, little did they know it was to be their next family home and a chance to showcase their building expertise.
A speculative trip to the 'as is, where is' Moncks Spur Road property was supposed to be a recce for a new project to be completed by the building company the pair co-own. But husband and wife team, Brad and Amanda, instantly fell in love with the property, seeing the boundless potential to create their own stylish family home and demonstrate their knowledge and command of building and renovating.
Looking at it now, the 260 square metre home looks like a new build – with impressive angles, contemporary cladding and modern interior design. But what sits behind the now sleek exterior is a timber-framed 1960s home on a rock-solid foundation. And this is just what Brad Richards Building specialise in: architectural renovations that stand the test of time.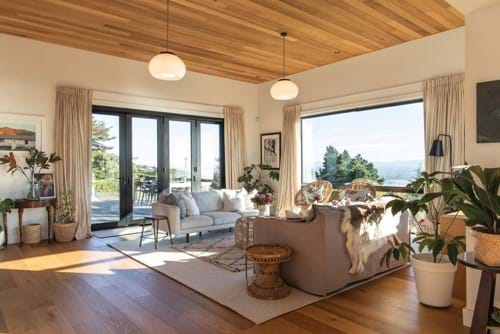 "People sometimes ask us why we didn't just pull the whole thing down and start again," says Brad, who is the Project Manager for the family-run business. "The foundation was solid and for a house on a hill that's really important. We liked the lines and the shape of the home. And that's our speciality and strength – large, complex renovations. Particularly on the hill."
With over 20 years of building experience, both here and overseas, Brad is passionate about renovating and dealing with old buildings. Post-earthquakes, his work has taken him into the new build space, and he thrives on making the almost impossible, possible.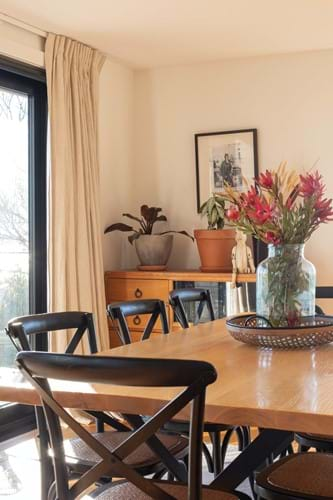 What the couple have created with their Mt Pleasant property is a stunning four-bedroom home, with an expansive picture-perfect living area plus a second downstairs living room, all encircled by extensive landscaping. The pool was already there, and with the addition of some retaining walls and extensive decking, the Richards have built a true family home for themselves and their two young children.
"It's important to us in our business that we practice what we preach. We love large-scale complex renovations and this house just proves that when we say we can renovate on the hill, we can do just that," says Brad.
Amanda brings extensive interiors experience, and between the two of them, they have formed a thriving family-owned business that works for their clients.
"Being a small family-run business, we see ourselves as a more affordable option for those building in a high-end market," states Brad. "We are a team of six builders and can flex upwards if required. By keeping things relatively small-scale, we can respond to our clients quickly, which is important to us. Being family-owned, family values are very important to us. We guarantee to treat your home as if it's our own. That means we pride ourselves on our reliability, our conscientiousness and our honesty. And of course we ensure a clean and tidy work site at the end of each day."
And it's the small things that make a big difference. The skill and love built into this home are thanks to Amanda and Brad being able to draw out the positive features of an older home and eliminate the negatives, all the while adding their stamp and personality to the place.